By Jordan Chemtob
Summer is here once again on Long Island; the time when Aerosmith rolls back into town to rock out Nikon Theater at Jones Beach. This time around, ex-Guns N Roses guitarist Slash joined in the fun with his solo project that  included Alter Bridge singer Miles Kennedy.   Aerosmith returned to the beach for their first concert back on American soil following the band's worldwide Global Warming tour.  Beginning just before the release of Music From Another Dimension, the groups first album since 2004's Just Push Play, the tour has lasted a stunning two years.  Though you would think they just had just begun: The 60-plus year old rockers showed little sign of fatigue on Thursday night, with bandleaders Steven Tyler and Joe Perry entertaining with their antics and innate musical ability.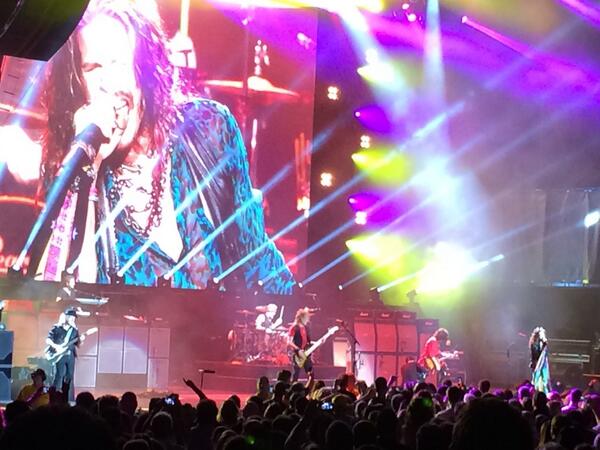 The show kicked off while the day was still light with Slash, whose famously wild music seemed to lack something in energy, as made clear by the audience's failure to muster the energy to sing along to songs such as Velvet Revolver's "Slither" or even the once-extremely popular closing tune "Paradise City" from GNR's 1987 classic LP Appetite for Destruction. While personal experience implies that the Nikon Theater, for all it's many strengths, tends to offer lackluster crowd reaction to openers ( including such widely known acts as Motley Crue and Cheap Trick) Slash's lack of enthusiasm came as a special disappointment, especially after seeing the large-haired singer/guitarist drive the crowd wild in Manhattan's Terminal 5 in 2010, shortly after the release of his first and surprisingly good solo album. Aerosmith, however, offered yet another entertaining performance that is consistent with their New York performances from past years.  After attending five concerts within ten years (a borderline unhealthy obsession with classic rock and Aerosmith in particular runs in this writer's family), Aerosmith continues to surprise by sprinkling their setlist with a handful of early and lesser-known songs. While a band enjoying such longevity and consistent acclaim could easily fill an entire set with radio staples such as "Walk This Way" and "Dream On," Aerosmith once again frustrated casual listeners and delighted longtime fans with a set that included "No More No More" and "Chip Away the Stone" — the latter of which spent decades unrecorded except for live performances — to the exclusion of by far more popular songs like "Train Kept A' Rolling."  With the exception of the Joe Perry-sung "Freedom Fighter" from the weak Songs From Another Dimension, fans would be hard pressed to find any lulls in the set, which you can check out here and enjoy vicariously.
After the long delays for a finally mediocre album and the public displays of disagreement between the band members in previous years, some of us worried that Aerosmith's time may finally be coming to a halt after forty years of great music.  This concert, however, made it clear the band still has some gas in the tank.. and the legendary chemistry between Tyler and Perry remains intact.  Here's hoping we will have another chance to see them in action for future years.